Pvc Free Foam Sheet
Pvc Free Foam Sheet
PREMIUM

Jinan City, Shandong Province

3-5days

2000tons per month
1. Premium Plastic 100% pvc foam sheet factory: strong strength is the guarantee of safe trade.
2. PVC foam board quality guarantee of high quality products.
3. Fast delivery pvc forex sheet: 20sets production lines, 6ton per line per day
Pvc Free Foam Sheet
PVC foam board made through foaming and pressing into shape. The main material is PVC resin, other materials like Calcium Powder and Additives,etc.
PVC foam board is the best and ideal material in Advertising, Decoration and Furniture.
It has the advantages of smooth surface, moisture proof and heat-resistant, anti corrosive, ametabolic, nontoxic and recyclable.
PVC foam board covers not only wood features, but also more ECO- friendly than wood.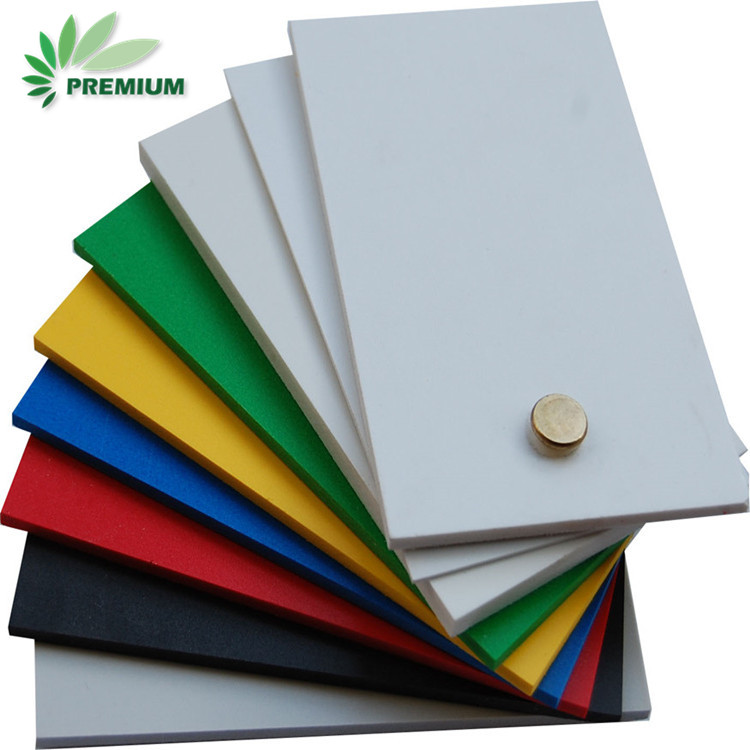 Premium Plastic 100% Factory: Dimension and technical parameter

Size:

Width x Length

915*1830mm

915*2440mm

1220*1830mm

1220*2440mm

1560*3050mm

2050*3050mm

610*610mm

Customization

Density:

=weight/volume

g/cm3=kg/m3

0.45g/cm3=

450kg/m3

0.50g/cm3=

500kg/m3

0.55g/cm3=

550kg/m3

0.60g/cm3=

600kg/m3

0.65g/cm3=

650kg/m3

0.40g/cm3=

400kg/m3

0.37g/cm3=

370kg/m3

Customization

Color

white

Grey=gray

black

wood

red

green

yellow

Customization
| | | | |
| --- | --- | --- | --- |
| Bulk Density | 0.35-0.9 g/cm3 | Shore Hardness | 40-80D |
| Water Absorption | <1% | Dimensional Stability | ±2% |
| Tensile Strength | 12-20 Mpa | Flexural Strength | 12-18 Mpa |
| Impact Strength | 8-15 KJ/m2 | Screw Holding Strength | >800 N |
| Elongation At Break | 15-20% | Flexural Modulus | 800-900 Mpa |
| Vicat Softening Temperature | 73-76 ℃ | Heating Dimensional Variation Ratio | +2% |
| Hydroscopicity | ≤1% | Fire Resistance | self extinguishing within 5 second |
Packing:
1. waterproof plastic bags
2. carton box
3. pallets
4. brown paper